Wednesday, May 28, 2003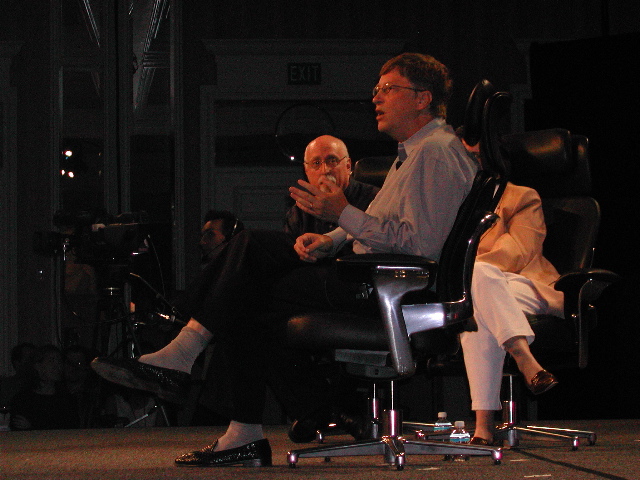 Bill Gates at D.
D kicked off last night with a reception, dinner and an interview with Bill Gates, who from his deft, direct and cogent handling of prickly questions about things like open source and Web services left me thinking he's been hanging out with Robert Scoble. I took sporadic notes which I may try to write up later. There is, however, no WiFi at D (a fact which drew low hisses from the crowd and promises of an explanation—yet to come—when it came up). Correction: the hotel is drenched in Wayport access, but I'm not sure it's possible to get on even if you prepay. Ironic to say the least, given that much of the discussion last night focused on planning and designing for ubiquitous and cheap wireless Internet access. Surreality check: the simultaneous view from my table of Bill Gates addressing the crowd and Steve Jobs and Steve Case reacting.
The supremely classy Dan Gillmor is here, as is Mitch Kapor, so I'd keep an eye on their pages as well. Here's the schedule for today's speakers:
8:00 a.m. to 10:30 a.m.: Steve Jobs; Barry Diller, Meg Whitman; Dr. Richard Klausner
10:45 a.m. to 12:15 p.m.: Terry Semel; Larry Page, Sergey Brin
1:45 p.m. to 4:15 p.m.: Ted Leonsis, Mark Cuban; Hilary Rosen, Jack Valenti, Rob Glaser, Joe Kraus, Dennis Mudd; Norm Pearlstine
4:30 p.m. to 6:00 p.m.: David Pottruck; Steve Case
---

Unless otherwise expressly stated, all original material of whatever nature created by Denise M. Howell and included in the Bag and Baggage weblog and any related pages, including the weblog's archives, is licensed under a Creative Commons License.